Collection: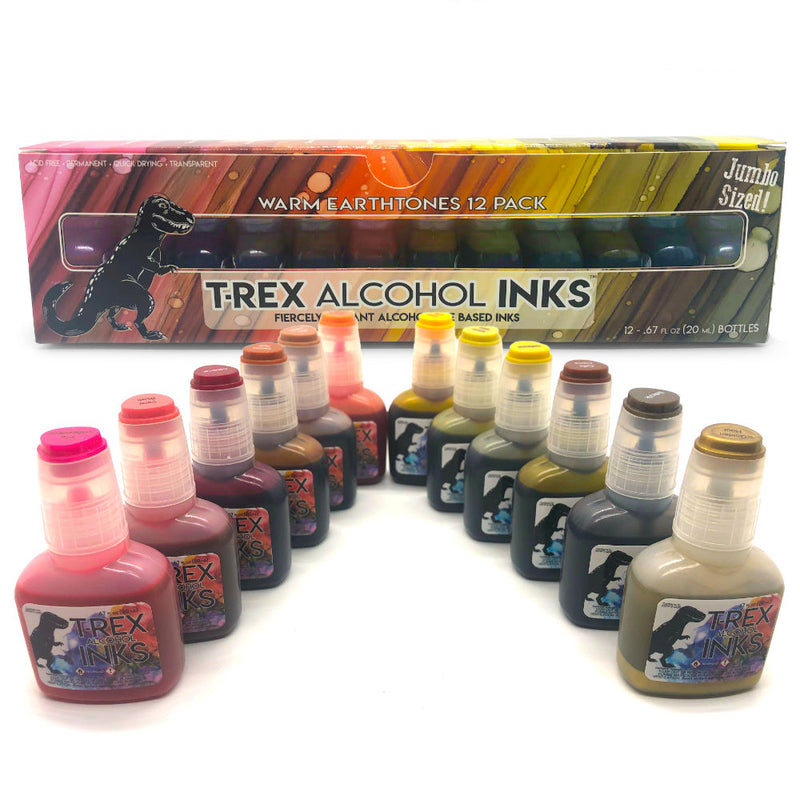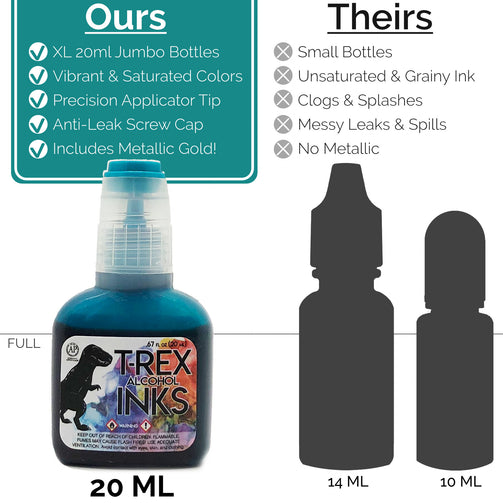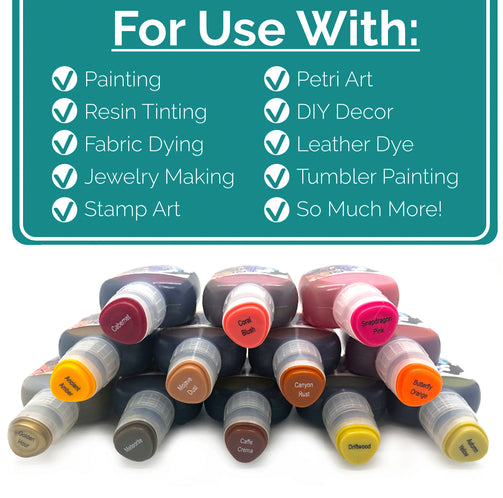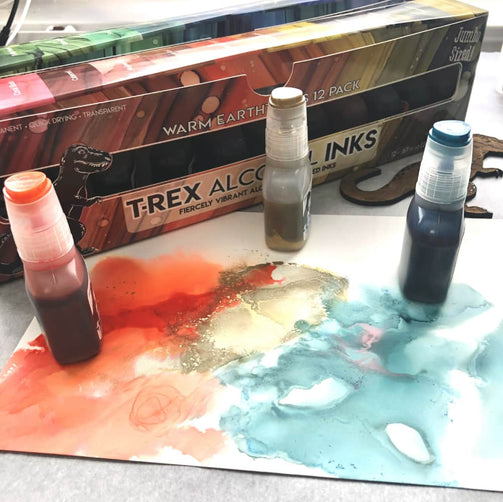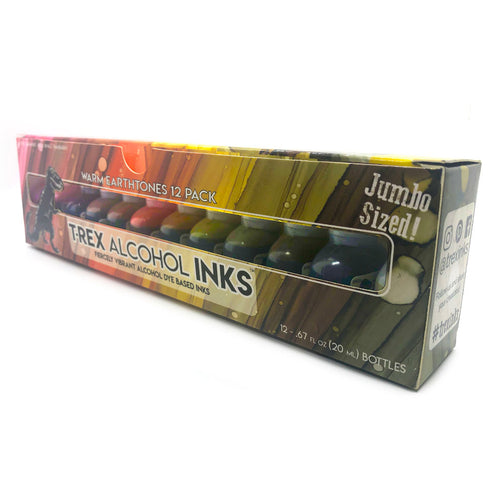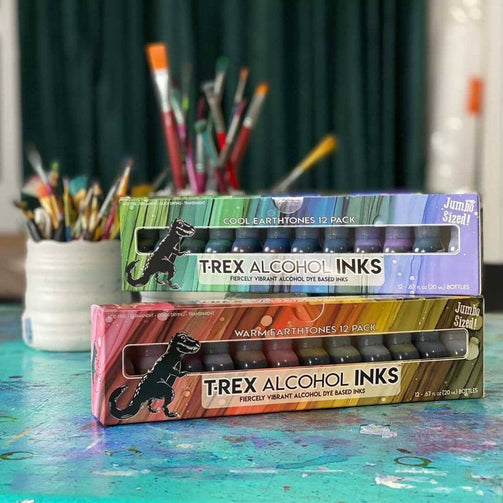 Collection:
WARM EARTHtones Premium Alcohol Ink 12 Bottle Set With Metallic Gold
WARM EARTHtones Premium Alcohol Ink 12 Bottle Set With Metallic Gold
Regular price

$36.99

Sale price

$34.99
FREE Domestic Shipping On All Orders!
Exclusive warm toned earthy nuanced colors with Metallic Gold ink included & storage box.
🦖 Unleash Your Inner Artist: Realize your artistic dreams with our premium Alcohol Ink Sets. Easy to use, jumbo sized fiercely vibrant warm toned colors & an included metallic gold alcohol ink unlock your artistic horizons!
🔥 Professional Quality: Premium quality Japanese dye-based alcohol inks crafted to be richly saturated & smooth so you can create long lasting depth & stunning effects with a rich palette of colors on alcohol ink paper and in epoxy resin!
🎨 Highly Saturated Ink & Fiercely Vibrant Colors: Highly concentrated color for ultimate vibrancy; A few drops is all it takes; For use with: alcohol ink paper, yupo paper, resin tint supplies, fabric dye, tumbler making, and so much more!
🎁 More Ink With Less Mess: Our inks have 33-50% more ink per bottle with built-in precision applicators & leak-resistant screw caps for more control with less spillage; The included storage box keeps everything organized.
🧑‍🎨 Created By Artists For Artists: We are a small family-run company & your happiness is our mission, we will go above and beyond to prove it! Join our growing community of thousands of artists who choose T-Rex Inks and start creating beautiful art today!

Professional Warm Toned Alcohol Ink For Epoxy Resin Dye, Painting, Tumbler Making & More - Storage Box & Metallic Gold Ink - 20ml Bottles
Our WARM EARTHtones Pack offers a nuanced collection of 12 colors spanning the spectrum of pink, red, orange, yellow, and brown with a pop of Gold Metallic. Good Art is all about nuances and an artist must have the right tools to achieve those which is why we made this series.

INCREDIBLY VERSATILE INKS FOR A VARIETY OF ART PROJECTS
Try it out on glossy paper, glass, stone, leather, ceramic, vinyl, plastic, foil, wood, fiberglass, vellum, epoxy resin, or even polymer clay for endless DIY and art projects.
PERFECT FOR RESIN ART
Perfect for acting as a colorant for most resin projects, including petri-dish style ink-drop resin artworks.
Earthy Nuanced Tones Like You've Never Seen Before
SNAPDRAGON PINK
gets its name from the beautiful flower that it so perfectly matches. It is unabashedly pink, but in an earthy way, with muted notes that have an ever so light touch of violet underlying the warm pink tones.

CORAL BLUSH makes a dalliance into the red family while also remaining firmly pink. Apply it heavily for more of a red-tinged pink, or thin it out for a soft blushing pink.

CABERNET is a deep crimson wine tone with all of its earthy notes and a robust burgundy undertone that bolsters this hue of red with a complexity of an expensive glass of vino. Thin it out for more of a cranberry color.

MOJAVE DUST is arguably our most earthy tone with "dust" in its very name and Mojave coming from the deserts of the American Southwest where the setting sun illuminates ruddy sands. Pour it thick for a dusky auburn hue or thin it out for a wispy desert sands red.

CANYON RUST is a wildly exhilarating color that spans from deep rusty brown when poured thick to an orange-brown cinnamony color when thinned. You can use it to get a robust ginger or copper-like (nonmetallic) tone making this a very versatile earth tone. It really pops with our Golden Hour metallic too.

BUTTERFLY ORANGE is by far the brightest in the Earthtones packs because, after all, the earth offers some very bright tones, namely, that of a bright and cheery butterfly. One of the most exciting things about this hue is the surprise undertones you can bring out when you thin it. You will find yellows and pinks at the edges and a punchy bright orange in the center.

ANCIENT AMBER is aptly named for its namesake fossilized resin we have all seen in jewelry and certain dinosaur-themed movies ("Spared no expense"). It is a caramelly, butterscotch-like yellow tone that is visually rich and yummy.

AUTUMN YELLOW is the exact shade of end-of-autumn leaves just before they fall off the tree and cover the ground in that iconic fall yellow color you end up jumping into a pile of. It has a very soft vegetal green-yellow tinge to it that remains vibrant and almost golden like freshly poured olive oil.

DRIFTWOOD offers an array of sepia tones much like the wide coloring of wood that washes up to shore. At the thinner edges, it is a pale hazel, and at its full intensity, a rich khaki.

CAFFE CREMA is guaranteed to make you want a freshly poured espresso. It is a deep nutty coffee brown with warm latte undertones and roasty overtones.

METEORITE is a stout charcoal tone that is hearth to the fire of your creativity. It calls to mind stoney colors, be it river rocks, pebbles, or an outcropping of slate.

GOLDEN HOUR adds dimension to your work breathing depth and life into it much like the perfect lighting of a photographer's golden hour. This is not just a gold color, it really has a true metallic effect to it. Just make sure to shake it up really well first.
Earth tones
I love all their alcohol inks.
Awesome Paints
Great color, easy to use. Great variety. Love them
Absolutely love them!
T-Rex inks are rich! My favorite inks to use on my tumblers.
Earth tones
I love all their alcohol inks.
Awesome Paints
Great color, easy to use. Great variety. Love them
Absolutely love them!
T-Rex inks are rich! My favorite inks to use on my tumblers.